COP26 Youth Marathon – United Nations Association
October 30, 2021 @ 10:00 am

-

12:00 pm

Free
An International webinar on UN COP26 to empower young people, organized by the Youth Council, UN Association Climate & Oceans
About this event
THE AMERICAS Time Zone
United States – New York (10 am EST)
Canada – Toronto (10 am EST)
United States – Chicago (9 am Central Time)
United States – Los Angeles ( 7 am Pacific Time)
Canada – Vancouver (7 am Pacific Time)
United States – Miami (10 am EST)
Argentina – Buenos Aires (11 am Atlantic Time)
Chile – Santiago (10 am Pacific Time)
About the conference:
The main theme of this conference is climate change and the run-up to COP26 as a global event split into 3 subsections relating to specific general time zones (Europe and Africa; North and South Americas; Asia and the Pacific Region). This conference will be hosted in three sections spread consecutively across the above time zones so that participants from around the world can attend. Aims of the North and South American Subsection conference:
This conference aims to empower youth through conversations with experts in various fields via workshops to increase leadership skills so that we, as the next generation, can better advocate for climate change issues especially in the run-up to the very important COP26 event in November 2021.
Workshops such as Learning How to Interpret Stats aim to develop leadership skills with an emphasis on climate change advocacy such as how integral proper interpretation of statistics is for mitigating climate change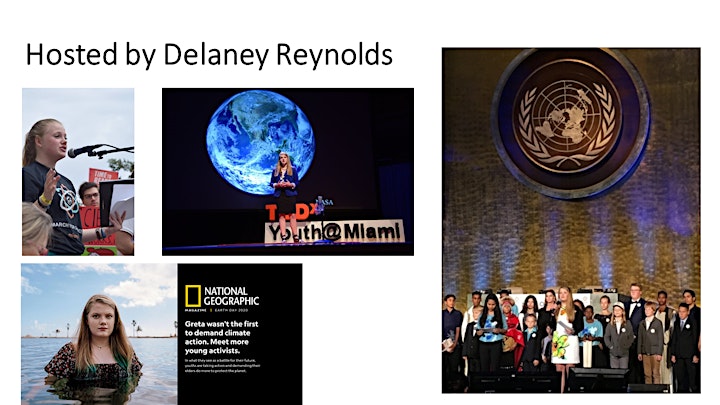 Delaney Reynolds is an Author, Explorer, Advocate and Educator. "My generation must decide whether we want our planet to swim or sink"
Co- Host: Karl Birkholtz (Pretoria, South Africa)
Organizer : Hannah Glowacki (Toronto, Canada)